(Ratatouille was provided to me by Click Communications for the purpose of review.)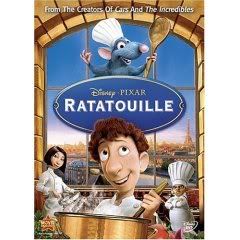 The kids and I watched Ratatouille
last night. I had heard so many good reviews of this movie when it was in the theaters, and they were right. Pixar has done it again – created a delightful animated film that kids and adults will both enjoy.
Ratatouille is the story of a rat named Remy. Remy lives in France, and he has a dream. He wants to cook. But, of course, there is a problem – he's a rat. Through a series of circumstances, Remy teams up with Linguini, a young man working as garbage boy at Gusteau's restaurant in Paris. Linguini can't cook, but Remy can, and together they create culinary masterpieces.
Ratatouille has a great storyline, a good romance, fun characters – and a meaningful theme: brilliant things can come from unexpected places. The kids all loved it – well, three of them. Josiah fell asleep – but he had an excuse, we had spent the evening at the Tae Kwon Do Halloween party and he had partied himself out. The older three all give it multiple thumbs up – and asked to watch it again today.
4 Comments