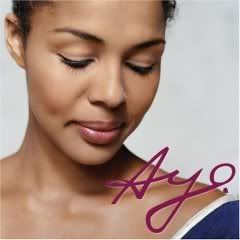 I have another great giveaway, thanks to the folks at Special Ops Media.
According to the news release:
Ayo is a supremely talented artist. She broke through in Europe last summer with the hit single "Down On My Knees", followed by her Platinum album Joyful, produced by Jay Newland (Norah Jones). She has since rapidly conquered such diverse markets as France, Italy, Germany, Poland, Argentina, Korea and Australia .

Ayo was born of a Nigerian father and a Romanian Gypsy mother. She was discovered in New York and was signed worldwide by Polydor France (Universal/Interscope in the U.S).

Ayo is being compared to everyone from Sade to Stevie Wonder, to Carole King, Joni Mitchell, Joan Armatrading and even Otis Redding, but Ayo is Ayo. Her songs are very 'personal' and her audience hits all age categories evenly, from very young to mature.
Check out Ayo's official web site, listen to some samples of her songs here and here, and then leave me a comment if you would like to win a copy of her upcoming CD Joyful
. I'll keep the contest open until Tuesday, October 30th at 12 midnight Pacific Standard Time.
2 Comments
Andrea


Sounds like something I would like. I'm in.

October 23rd, 2007 at 5:54 am
Lesha


Count me in! : )

October 23rd, 2007 at 9:36 am