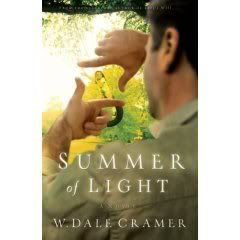 I just finished listening to Summer of Light
by W. Dale Cramer on audiobook, and I can't say enough about this book. It's laugh-out-loud funny, lump-in-your-throat poignant, and thought-provoking. How often do you get all of that in one book?
Mick Brannigan is an iron worker. He's (mostly, like any of us) happily married with three kids. He likes his life – but it gets turned upside down when a string of freak "accidents" puts him out of work and turns him into a stay-at-home Dad.
His wife needs to work for the health insurance, because their youngest son, Dillon, has just been diagnosed with Sensory Integration Disorder. My sister has a son who has a mild case of this, so I know that it is no laughing matter, but I have to say that the passages of the book that describe the way Dillon experiences the world are hilarious.
At first, Mick thinks that this stay-at-home Dad stuff will be a breeze. At first. Then reality sets in, and he experiences many of the same issues we moms are faced with: monotony, being starved for adult conversation, the never-ending pile of laundry, trying to mold the characters of our kids.
As Mick learns to love his kids, he also discovers his God-given talent for photography. It is a gift, pure and simple, and He begins to wonder about the God who gave it to him.
If you're wondering just how funny this book is, I could not listen to it at night in bed, because I kept laughing aloud and then muffling my face in the pillow so I wouldn't wake Kevin. And in the midst of all the hilarity of a red-neck father raising three spitfire kids, there are some great themes of forgiveness, redemption, and just letting go.
5 stars
12 Comments