(Tutankhamun & The Golden Age of the Pharaohs was provided to me by Special Ops Media for the purpose of review.)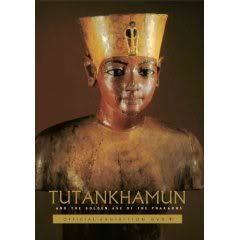 Tutankhamun & The Golden Age of the Pharaohs
is a wonderful DVD documentary about King Tutankhamum and the artifacts found in his tomb. The cover description:
In 1976 a collection of 55 treasures from the tomb of the Pharaoh Tutankhamum left the Cairo Museum en route to the United States. It took the country by storm and introduced millions of Americans to these wonders of the ancient world.

Now, Egypt has granted another opportunity for us to view such treasures, and again, spectators are mesmerized. I am pleased to present Tutankhamun and the Golden Age of Pharaohs on DVD, hosted by Omar Sharif and including interviews with Dr. Zahi Hawass, Secretary General of the Supreme Council of Antiquities in Cairo, Egypt, as well as many other individuals that were instrumental in organizing this exhibition.

Creating this exhibition has been especially gratifying work, for it ultimately allows all of us to participate in an ancient Egyptian wish: "Causing his name to live." Funerary texts often included a phrase like this to ensure that the memory of the deceased and the spirit of the individual would continue to live in perpetuity in the afterlife. By tradition, the children and ancestors would fulfill this role, but Tutankhamun had no direct heirs to succeed him. In a way, each of us who views the DVD, partakes in the exhibition's marvels and repeats his name, helps ensure that Tutankhamun will indeed achieve immortality.

All of my colleagues and I are honored to be associated with this magnificent exhibition.

John Norman
-President, Arts and Exhibitions International
The kids and I studied ancient history this past school year, and enjoyed our studies of Egypt. This DVD gave them some great visual images of the art and culture of the Egyptian empire. The documentary is really designed for older students and adults, though, and the commentary was too long and detailed to keep my kids' attention. (Their grades range from kindergarten to 5th grade.) I will be putting this DVD away, and in four years when we revisit ancient history, it will be a perfect addition to our study of Egypt.
In spite of my kids' lack of attention, I thought the quality of the DVD was beautiful. The artifacts are displayed from all angles, with complete details and backgrounds given on each object. They also talk about the CAT scan of Tutankhamun's mummified body and speculate as to the cause of his death.
Special features include a video montage that spotlights details of over 100 artifacts, video of the discovery of Tutankhamun's tomb in 1922, and behind the scenes footage at the exhibition.
For those of you who are fascinated by ancient Egypt, or who have older students – this documentary would make a perfect addition to your homeschooling library.
One Comment
Carol in Oregon


Carrie,

Will you email me? Thanks.

Carol

July 30th, 2007 at 12:03 pm