(The Muppet Show – Season Two was provided to me by Click Communications for the purpose of review.)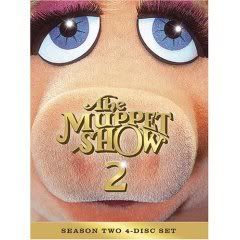 I've been taking a walk down memory lane the past week or so, watching episodes of The Muppet Show – Season Two
with my kids. The Muppet Show was one show that I remember our whole family watching together. Well, maybe not the whole family – some of my sisters might not have been born yet when this was playing!
My kids love the show as much as I did when I was their age – and why not? Who can resists Veterinarian's Hospital or Pigs in Space? Who doesn't love to watch Animal play the drums, or the two grumpy old men in the balcony heckle the performers? Kermit, Miss Piggy, Gonzo, Fozzie Bear, Rolph, the Swedish Chef – they're all here.
What I enjoy the most, though, is watching the guest stars. Steve Martin – before his hair was completely white! Julie Andrews, Bernadette Peters, Elton John, Judy Collins, George Burns, Bob Hope, John Cleese – what fun watching these performers! Some of them were at the height of their career, some of them have had careers that have continued on, some are no longer with us. If this show was still running, I wonder how many of today's great actors and musicians would be willing to perform with puppets on a family show?
From the Amazon review:
Bonus features include the rare 1974 Muppets Valentine Special featuring a young Mia Farrow and a host of virtually unknown Muppet characters including the enormous blue monster, Thog. Also included is Muppets' music video of "Keep Fishin'," and interview footage of "The Muppets on the Muppets." Whether reliving childhood evenings spent with family around the television or experiencing The Muppet Show for the first time, viewers of all ages will adore this second season.
Season Two of The Muppet Show will be released on DVD on August 7th.
6 Comments