(Hannah Montana: Pop Star Profile was provided to me by Special Ops Media for the purpose of review.)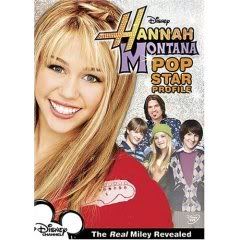 Most of you already know that I have a 10-year-old daughter. 10-and-a-half, she would tell you. Hannah Montana is a favorite at our house, so I jumped at the chance to review Hannah Montana: Pop Star Profile
. Mostly, I just knew Natalie would kill me if she found out I turned down the offer.
Disney's Hannah Montana stars Miley Cyrus, daughter of Billy Ray Cyrus, who plays her father on the show. Miley plays Miley Stewart who is also pop star Hannah Montana, a secret only her two best friends know. At school, she's just Miley, trying to live a normal life.
I like watching Hannah Montana with the kids – and Kevin has even sat through a few episodes with us. The acting is broad, the comedy slapstick at times, but the fact that this is a comedy series that I can watch with all of my kids and not worry about content issues is a big plus.
Miley/Hannah's best friend Lily is played by Emily Osment, sister of Haley Joel Osment from The Sixth Sense and Secondhand Lions. The friendship between these two girls is part of what makes the series work so well. It's humorous and bittersweet to watch them go through all of those high school milestones like first love, being stood up for a date, and trying to fit in without giving up who you are. The comedy is amped up by the relationship between Billy Ray's character (Bobby Ray, I think) and Miley's older brother Jackson.
Hannah Montana: Pop Star Profile
contains the episodes "New Kid in School," "More Than a Zombie to Me," "Good Golly Miss Dolly," and "People Who Use People." The bonus features include the featurette "The Real Miley Cyrus," a look at Miley's family and costars. There is also a live concert performance of Hannah Montana's hit "Nobody's Perfect."
Hannah Montana is a show you can enjoy with the whole family, knowing you'll be getting comedy and family values, and no need to jump up and cover your kids' eyes and ears.
5 Comments